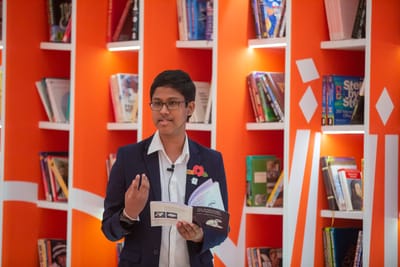 In an era, where individual pinnacles are evident, emphasizing the importance of acknowledging the ones around is my passion. I take pride in born in a land known for its inimitable history and hospitality, Sri Lanka. At the same time, It's with gratitude, that I mention my life in the UAE has been both safe and complete within the visions of universal equality.
THOUGHTS OF A TEN-YEAR-OLD, TOLERANCE FOR HAPPINESS, and AN ANTHOLOGY OF EXPRESSIONS, are my publications that reveal the unuttered.
A 14-year-old, living in the world's most cosmopolitan city, and studying with over 86 nationalities, how would I not say, an awe-inspiring experience?
A small figure in the making to a ''human worth knowing,'' with dreams, and my own visions of success.
Image Courtesy : SIBF